Last Updated on: September 19, 2023
Overview
HISTORY OF SERICULTURE IN BTR
Eri Silk is legacy of Bodo's .The  art of Eri Silkworm rearing, spinning and weaving is introduced by Bodo Indigenous people in India, "Like a mother from infants Bodos & Silk are in Separable." The use of Eri Silk is closely associated with the culture and tradition of Bodo Society.
Sericulture in Chirang District
The people of Chirang district enjoys the unique distinction of being producing all three varieties of Silk viz. Eri, Muga, Mulberry. Ericulture is a part of cultural ethos of and tradition of Bodo Community since the time immemorial. However Muga and Mulberry culture was introduced in a systematic way as one of the income generating venture almost the rural folks of the district from 9th five year plan onwards only.
Development Trends
Sericulture practiced in 257 Nos villages out of total no 508 villages in Chirang district. A total 10,725 nos families are directly involved in Sericulture activities.
Achivement made in the field
 A. Total Sericulture family of the District (sector wise)
| | | |
| --- | --- | --- |
| Sl No | Sector | No. of Rearer |
| 1 | Eri | 10,095 |
| 2 | Muga | 475 |
| 3 | Mulberry | 155 |
|   | Total | 10,725 |
B. Area under Systematic Silkworm food plant (2022-23)
| | |
| --- | --- |
| Sector | Area under food plants         Pvt ( Hect) |
| Eri | 178.4 |
| Muga | 44.5 |
| Mulberry | 5.5 |
C. Production of Raw Silk for the year 2022-23
District

Sector

Target

Achievement( from 1st April/21 to till date

Percentage of Achievement

Chirang

Eri

 

212 MT

211.788

99.90%

Muga

 

6 MT

5.340

89%

Mulberry

2.25 MT

0.225

10%
Establishment of Worlds 1st Muga wild Life Sanctuary in the District
Considering the importance of the conservation of Biodiversity of Muga Silkworm in the wild for future exploitation of the Gene Bank , the Department of Sericulture, BTR in association with Central Silk Board, Govt. of India and Department of Forest , BTR has taken the step for establishment  of Worlds first Muga Wild Life Sanctuary in the fringe areas of Manas National Park, Assam demarcating 300 bighas of Land in Ranghijhora area of Kukhlung forest, Bijni Sub-division during the year 2013 on 5th June.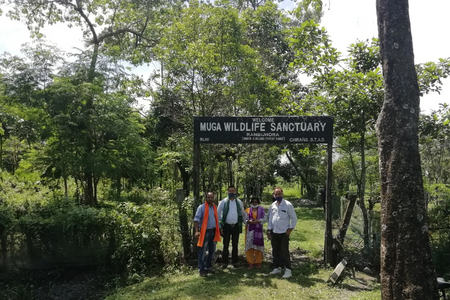 Seri activities in Chirang District

.
Improvement Marketing System
To enable the improved proper marketing system locally a Seri based  F.P.O is formed.

During the month of Feb/2022 for improvement of Marketing System 50 Nos Eri Motorized Spinning machines distributed among the 10 Nos SHgs ( 5 Machine each ) which sponsored by the Distict Administration, Chirang and accordingly spinning trainning held in the month of March/222 to 24 Nos trainees from 6 Nos S.H.G, 4 Nos trainees each S.H.G by RSETI, Chirang
Training
 Eri Spinning training given to 24 Nos trainees from 6 Nos S.H.G held from 21/3/2022 to 30/3/2022 at RSETE Kajalgaon, Chirang as organized by District Administration Chirang.
Systematic Eri Food plantation training given to 20 Nos trainees from Malivita and Patabari VCDC area jointly with DRDA Chirang held at District Centre Conference Hall, Chirang on 6/5/2022.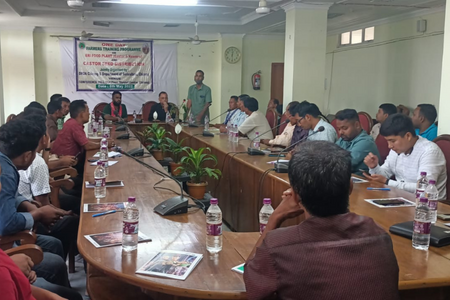 Nurserry
Eri Food plant Kesseru Nurserry raised 1,50,000 Nos in Pvt. Sector under Kajalgaon sub-division.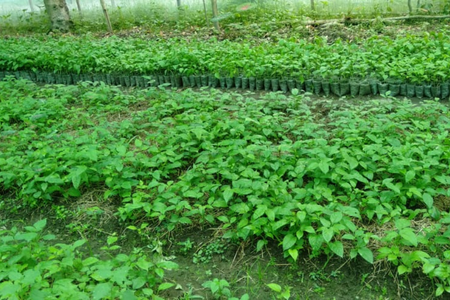 7. Scheme: BODOLAND ERI MISSION UNDER SILK SAMAGRAH-2 for the 2022-23
ERI SECTOR:
| | | | | |
| --- | --- | --- | --- | --- |
| Sl No | Name of Scheme/Program | Target | Achievement | 100% Achievement |
| 1 | Raising of Kesseru Kissan Nurssery | 15 | 15 | 100% |
| 2 | Support for Eri Host Plantation Development (Kesseru) | 150 | 120 | 80% |
MUGA SECTOR:
| | | | | |
| --- | --- | --- | --- | --- |
| Sl No | Name of Scheme/Program | Target | Achievement | 100% Achievement |
| 1 | Support for Muga Host Plantation Development  | 18 | 18 | 100% |